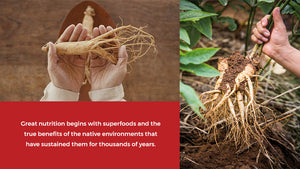 Korea is Rooted in Excellence
Great nutrition begins with superfoods and the true benefits of those superfoods come from the native environments that have sustained them for thousands of years. From the geographical latitude, four distinct seasons, to the ideal soil conditions, these factors have made Korea the best and only suitable environment for Korean Red Ginseng in terms of both quantity and variety of active health components; hence demonstrating Korean Red Ginseng's efficacy. Korean Red Ginseng is a highly delicate root that cannot grow anywhere else in the world! Its robustness and nutrient density are a direct result of its perfect growing conditions.
The Korean environment directly contributes to the diversity of the root's powerful structure. With the power of the right mix, Korean Red Ginseng produces more than twice the variety of healthy components of other ginseng species! In addition, other ginseng species, such as American, Japanese, and Siberian ginseng, as well as cousins to Korean Red Ginseng, including Chinese ginseng, product only half of the total quantity of healthy saponins that Korean Red Ginseng is able to provide to consumers.
Furthermore, the way fresh ginseng roots are processed into the sough-after Korean Red ginseng also gives the roots an advantage over all other ginseng species. Korean Red Ginseng was originally developed during a process to extend the shelf life or ordinary ginseng. However, by coincidence, the processed ginseng roots outshone the original and was revealed to be far denser in natural benefits. This steaming and air-drying process not only prolong shelf life, but also increase the healthy, active components that exist in the ginseng roots' skins.
In other words, Korean Red Ginseng is the most premium ginseng in the world. So you can imagine that every root is treated with detailed care and strict quality assurance guidelines to adhere to thousands of years of tradition, pride, and excellence. But what makes Korean Red Ginseng so much stronger than others?
Subscribe to our newsletter
Promotions, new products and sales. Directly to your inbox.